Mobile Website Design
Mobile Website Design in Metro Vancouver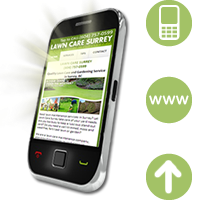 By 2013 most searches for local shops

and services will be via MOBILE.
Impress potential customers with

our modern MOBILE-Friendly WEBSITES.
Make it easier for smartphone users

to CALL YOU instantly or subscribe.
Mobile optimized websites are especially important for local brick and mortar businesses.  If your site is NOT optimized to fit a smartphone screen, it has less chance of coming up in search results when someone types from a smartphone (search engines are the most visited sites from smart-phones).  If it does show in search results, and you click to see the site – it may show up so small, you can't see it and need to take extra steps to zoom in, scroll to left and right to read it, but users are getting more and more impatient.  Many just leave and move on to a site that's easier to navigate on their screen.  Those websites that fit nicely on the screen are made especially for mobile – they are "mobile friendly sites".
Let us make you a mobile-friendly website that matches your branding and site.  You need a separate site that:
Loads faster than normal sites by having fewer graphics and lighter code
Has bigger text and buttons that respond to touch rather than clicks
Contains media that works well on ALL phones (Flash will not work on iPhones)
Has more condensed information with the primary goal of getting the user to phone you or fill out a contact form
Is useful for mobile marketing – incentive to text your for a coupon and visit, receive SMS updates, etc.
There are other reasons why you need a mobile site besides being easier to see and use.  (see study below)
Better rankings, and most of all, SALES.   Yes, according to Google and Ipsos OTX MediaCT, in 2010:
95% of Smartphone users have looked for LOCAL information, and
77% of those have taken some kind of action as a result
within a day – 61% make a call, and 59% make a visit.
You don't get that kind of action from desktop users.  Mobile users are already on the go, and may be near your store, and are more likely to take action NOW.
It's unavoidable now – a search-friendly site now needs to include a mobile-friendly site.
We at FOS prefer to combine Mobile-friendly sites with an overall web-presence package for most effectiveness, but if you want only want this done, we will customize a mobile site for you, starting at just $67 for a basic 1-2 page site to $297 for more pages with custom graphics and contact form.   We then add the code to your site that automatically redirects visitors to your mobile version when loading from a smartphone.
View this fascinating study, now already 1.5 years old, so you know mobile users have increased all the more.



If you need a mobile website design in Vancouver or Surrey, BC area, give us a call at (778) 578-1202