Search Engine Marketing (SEM)
& Pay-Per-Click (PPC) Management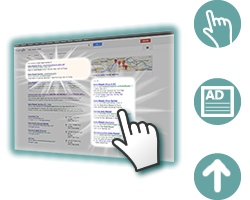 For those who want FAST results
without waiting for natural rankings.
Spending too much on PPC? Ask us for
a free mini PPC audit to SAVE MONEY.
Managed by our partners, 7-yr experts
certified by Google, Bing, & Yahoo.
* Organic search results from good SEO is a good way to get free traffic long term.  When your money stops, the traffic stream and results can continue.
* Paid search results is the FASTEST way to get traffic and leads NOW, but when your spending stops, so does your traffic and new customers.
The best results come with a combination of BOTH
Here are some facts:
Most companies, even PPC companies, are spending too much money for their Google Ads, Adcenter and other PPC campaigns.
Our team can reduce your search marketing costs AND increase your conversions to desired actions – improving your marketing ROI.
Let us reduce your spending by 20-30%.  If you spend $4,000/m on Adwords, just think of getting the same or better results costing only $3200
Let us prove it to you with a free mini PPC audit of your Google Adwords spending, using proprietary software.
We then partner with one of the most effective PPC management teams in North America, who have even brought better results for companies than other name-brand PPC marketing firms were able to deliver.
STEP 1  – Request your free PPC analysis here:  and set an appointment to explain your free mini PPC audit.
STEP 2 – See the audit and learn a few tips that will save you money
STEP 3 – Order a full, comprehensive audit of your PPC campaigns to reveal weaknesses that could be costing you thousands.
STEP 4 – Sign up with us to start saving right away on your monthly marketing bills!
Our US-based team eats, breathes, and lives pay-per-click.  It's all they do. For seven years.  You most likely wouldn't get the same results as us if you did it yourself.  There are so many details to know and test.
Our team is all certified by the big 3 search engines – Google, Bing, and Yahoo.  See the video on the side for more explanation.
We can also manage your Facebook PPC campaigns, and have successfully gotten leads this way for local businesses.  Give us a call at 778-578-1202.