Local SEO Services in Surrey, Langley, Vancouver BC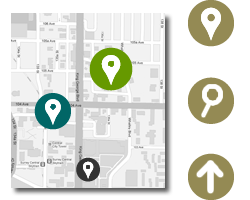 People in your area are searching for you. We make sure they find your Google Business Profile (formerly Google My Business).
Contact us for a local audit to see what it will take to get you found better on Google Maps.  Want to do it yourself?  Join the Google My Business Training Portal.
Let's face it, if you are not found online where potential customers are actually looking for you – search engines, then you are leaving money on the table.  Without a strong online presence that is optimized to be found by search engines in your local area, others on page one of local search results are getting all the business you could have a share in.
What is "local SEO"?
SEO stands for "Search Engine Optimization".  This means you or someone else spends lots of time studying just what elements ON or OFF your website or online property will make it easier for search engines to know what your site is about, how relevant it is for various phrases people search, how popular it is to viewers, and how credible it is to your local area.
"Local SEO" just means optimizing your site specifically for people searching with local intent, like "web design company near me" or "local marketing consultants surrey" or "langley seo company".  Optimizing for LOCAL requires some different activities and focus vs optimizing for general national or international discovery – in some cases it's easier than national in that there is less competition – but it's also more difficult in larger cities because there are only 3 spots on the first page in the Google Maps section, or Bing/Yahoo maps, compared to 10 listings of normal search listings.
Why do we need local SEO services?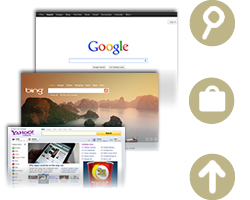 The benefits? Your home-based or brick-and-mortar local business would show up in Google Maps, Bing Local or Yahoo Local listings, and many other local directories and review sites, including Facebook Local.  You have more of a chance to show up on the TOP of page one local search results page.   The sooner you get in the better, because the more other businesses in your city and niche find out about it, the greater the competition to be in the enviable top spot.  Consider page one as prime search engine real estate.  It's all about location, location – be where the traffic is.  The good news is, most local businesses have no permanent claim to page one or top spot.  You can compete for it – even if you aren't up on local online marketing or SEO.  Just leave it to a local search specialist.
Local search results look different from national search results, so the goals and activities to rank your website for LOCAL searches are different.  In local listings, your business can show up in both MAPS and normal organic results.  You can also get phone calls directly from your listing in mobile results.
Though the amount of searches per month are not huge in number, search terms with your city in it are good to rank for because most of these people are looking for information to buy YOUR products or services in YOUR city.   Most look online before or instead of those white or yellow local printed directories.  Your business wants to be found online so they can see your phone number immediately and call you.
Benefits of having a professional local search expert help you?
Saves you time.   Doing it right for maximum advantage will take you a few days.
Saves you money, since time is money.  

How much are YOU worth per hour

?  We can do it for less than if you paid yourself to do it.
Saves you from a big learning curve and waiting too long, losing potential customers.  Most never get around to it, and neither does your volunteer relative end of prioritizing your business.
Saves you from potential mistakes that can get you delisted.  You need industry insider knowledge for maximum impact.
Saves you the headache of keeping up with all the changes! Google Maps now Google Places, now Google+1 Local, now Google My Business (GMB), and now Google Business Profile (GBP).  What next?  Google makes hundreds of changes to their algorithm every year.  We spend our time keeping up, but the small business owner has no time.  Hand over the headache to us!
Even nationwide or international companies need to focus on local search engine optimization if they want to have local customers.  A company like "Virgin Mobile" is more likely to show up on page 1 for those who search "cell company Vancouver" if they optimize for that phrase than if they only chose the generic "cellular companies" keyword.
If you are an independent agency of a national company, it would be in your interest to have your OWN lead-generating site, or at least Facebook page that you can optimize for local keywords.  Instead of  agentname.sunlife.ca, you could have a site that's optimized to be found in Google maps apart from the corporate site – registered with your company name and optimized for "life insurance agency Surrey" or something like that.
What does our business need to get better found in local search results?
There are several factors that help your business get better found in search. Each business, niche and city may have a different need and diagnosis as to what is the solution for them.  Let's setup an appointment and I guarantee as your local Surrey SEO specialist, you will learn something useful for your local business' online presence- whether you use our local SEO services or not.
We don't exist to "sell services", but to "bring solutions", Found Online Solutions.
Sign up for our free report on your local findability score.
Our Surrey SEO company web marketing consultants' aim is to get you to the first page of search results through:
*  Google Maps Optimization

*  Google Listing Services, or now it will be called…
*  Google Business Profile (GMB) Optimization service

*  Local Directory Listing and Citations Service
If you want do-it-yourself (DIY), here is a detailed step by step Google Exposure guide to setting up and foundational optimization of your Google Business Profile.
See some of our Local SEO packages (coming soon), and our Local Brand Optimization packages.
Note:  We cannot and do not guarantee any specific position in search results, which ultimately rests with the search engine itself.  But we do guarantee first page results for some local search phrases, and to use our collective SEO knowledge, experience, and implement best SEO practices to get the best results possible.  How long it sticks depends on your competition and popularity of your site.
Those who follow our recommendations for a year, however, DO get a guarantee – a traffic increase guarantee (depending on age of website) – from 15% for older sites to 40% increase for newer websites.  This increase should translate into increased profit for your business – so when it's done, your spend is an INVESTMENT in your own business, and NOT a "cost".  Give us a call at 778-578-1202.