Web Presence Audit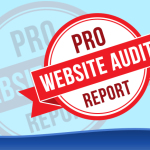 Check your local rankings, the health of your website and web presence, how your target audience is looking for you and deciding on your type of product/service, and check your marketing effectiveness, your Pay-per-click effectiveness, and more.
Why do you need an audit?
Sometimes you need to know how you stand. Did past bad SEO affect my site? Is the speed of my site hindering? Is my site best setup for search engines and users? Is my social media activity enough?
Schedule a consultation time, and we'll begin the process of a thorough web presence audit.
We offer professional SEO website audit reports with REAL HUMAN ANALYSIS – (more than boilerplate software generated ones)  Sometimes you require a proactive audit to ensure your websites will perform and not waste SEO efforts.
Meanwhile, you can utilize 2 of our non-human generated audits here – we'd go into more detail with our human analysis:
* Key on-site factors that help you or are needed for better search rankings.  Enter in form on sidebar.
* This web presence audit covers key factors needed for both local search rankings, as well as online reputation.
The Pro Website Audit Report covers the following:
• Marketing Research and Analysis
• Keyword Structuring
• Ranking Analysis
• Competition Analysis
• Site Performance Check
• Content Crawlability Check
• URL Structuring
• Broken Links Check
• Robots.txt Analysis
• Backlink Analysis
• Duplicate Website Check
• Content Instructions
Again, these reports are generated with REAL HUMAN ANALYSIS. While we will use tools to run initial reports, our analysts do what software cannot do which is to identify what needs to be fixed, how to fix it, and how much it would cost. We also provide you with website restructuring guidelines for the pages/navigation, and will analyze the backlinks to determine if they need to be disavowed or removed, or if the website needs to be rebuilt on a new domain name.