How to Know What Local Search Ranking Factors You Need to Worry About
Every year the folks over at Moz come out with what has proven to be the authoritative annual report on local search ranking factors. They poll experts from the field and come up with an easy to read and comprehend report that details the empirical evidence of how Google is ranking local pages.
Sometimes it can be difficult to wade through the SEO-speak, so simply speaking, here are our takeaways from the latest report, issued October.
What's working in local search ranking in 2020

Review Signals – Even more during this COVID-19 period, customers are going local – and what is the first thing they do? Look for reviews.  Search engines naturally wants to show quality results to the users, so their algorithms are paying close attention to customer reviews, but not only that – the engagement of business owners with the customers.  Don't just focus on Google reviews – keep in mind that Bing and Yahoo will show Yelp and Facebook reviews in their local listings.
Would you be interested in knowing how to get more 5-star reviews than your competitors?  Download this free comprehensive guide.
User Behavior matters – Google is now paying particular attention to what your user does while they're on your website. They are viewing click-throughs, filling out forms, length of time spent on the site, actions taken, even getting directions – all as a sign that your site is providing a good search experience.  Good content is always a top foundational necessity for user engagement and social signals – and always will be.  Does your business have a regular blog content strategy?
Proximity to the searcher – This used to be high, but in recent times, it dropped to 3rd.  Proximity is still important, but it appears that the optimization of your Google My Business (GMB) listing  and reviews have a higher influence on placement in the maps listings. If your local pages are GEO optimized, you stand a far better chance at Google being able to connect the dots and show your results for searches in your area. Google has also gotten better at knowing desktop locations, something it had not done well the past.
Domain authority – Another signal that is flying upwards. Though it is still possible to find lots of spammy results in local, the tide is clearly in your favor if you are a brand that continues to build authority and presence. This one obviously has many pieces to it.  Useful content in various places that gets shared lots in social media and other places will be a huge boost.
Citations – Citations, even from an unlinked authority site, appear to be a big part of Google's mission to reward brands. Making use of citations is still a large part of ranking well locally.  (Citations are mentions of your company name, phone, and/or address on other sites).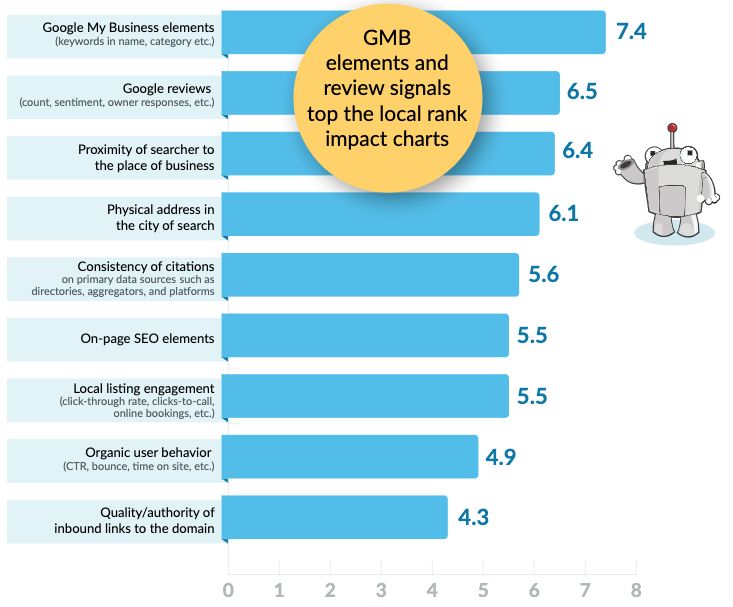 On-Page SEO signals and GMB optimization rules – The largest factor in other year's surveys was again on-page SEO. This time, the optimization of Google My Business is the top factor. The presence of NAP data, (name, address, phone) keywords in titles, domain authority and GEO locators among others are still leading the way in regards to getting you great results in local rankings.  If you're planning to get a new website, make sure your web-design person or company KNOWS these factors, and you know if your price quote includes these on-site factors.  Some web designers claim to know, but don't implement it on your site in a way needed for local search ranking factors.
The whole state of local SEO in 2020 report is well worth reading and can be found on this page. (Image is from the Moz report).
In short, if you want potential customers or patients to find your business, it is vital that your GMB listing is filled out with searchable terms, captures attention with photos and video – in other words, well-optimized. It's also vital you have ongoing posts in your listing, as they get more attention over time and can increase clicks to your site or phone calls.
How would you like a free Google Listing Q&A over a screen-share consult?  Book a time here, I'd love to help.
If you'd rather just go step-by-step through a comprehensive path toward getting in the local 3-pack on page 1 of search results, then you will want this GMB training portal that gets updated every year.